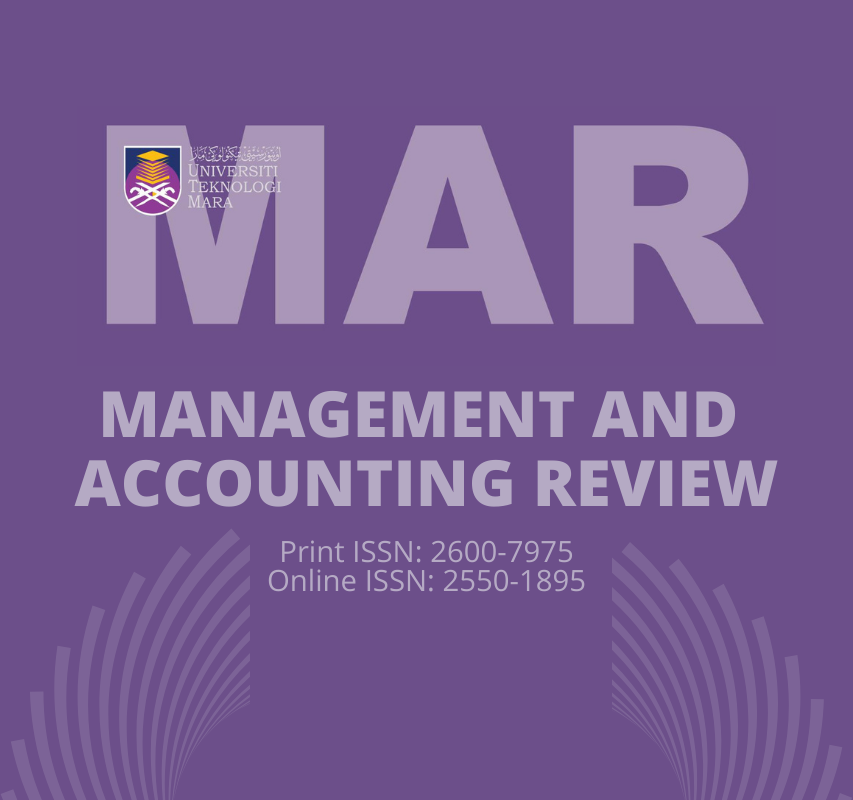 Management and Accounting Review (previously known as Malaysian Accounting Review) was launched to stimulate quality research in accounting and related areas. Researchers are strongly encouraged to use this publication as a platform for disseminating their research findings to the member of the academia and the community at large.  Its initial publication in 2002 was once a year but effective 2006, the journal issue was increased to twice a year (June and December). Starting 2018, the journal issue was increased to thrice a year (April, August and December).
The journal covers such areas as:
» Auditing
» Management accounting
» Financial management
» Forensic accounting
» Taxation
» Corporate governance

» Public sector accounting
» Interdisciplinary studies
» Financial accounting
» Accounting information systems
» Social and environmental accounting
» Accounting education
Current Issue : Volume 22 No. 1, April 2023
**Note: The DOIs are in the process of being deposited. We greatly appreciate your patience and understanding as we work on this. Thank you.


1.
EFFECTS OF CORPORATE GOVERNANCE AND FINANCIAL PERFORMANCE ON FRAUDULENT FINANCIAL STATEMENTS: EVIDENCE FROM INDONESIA'S PROPERTY, REAL ESTATE, AND BUILDING CONSTRUCTION SECTORS
Reni Yendrawati, Reny Lia Riantika, Firkhansya Zuhaira Kusumadewi, Nurul Azlin Azmi and Zuraidah Mohd Sanusi


2.
FACTORS INFLUENCING EMERGING COMPETENCIES AMONG PROFESSIONAL ACCOUNTANTS IN THE CYBER ERA: MALAYSIAN EVIDENCE
Zairul Nurshazana Zainuddin, Mahfuzah Ahmad, Nurul Ezhawati Abdul Latif, Faizal Mohamed Yusof and Suzana Sulaiman


3.
THE UPPER ECHELON THEORY: A MIXED METHOD STUDY OF MANAGING KNOWLEDGE ASSETS IN MALAYSIAN HOSPITALS
Hazlina Hassan, Amrizah Kamaluddin, Norman Mohd Saleh and Noradiva Hamzah


4.
WILL YOU BE A HONEY AND HELP US RAISE MONEY?: INVESTIGATING ONLINE CROWDFUNDING PLATFORMS ACCEPTANCE, PERCEIVED TRUST, AND BEHAVIOURAL INTENTION
Saiyid Abdallah Syahir Al-Edrus, Ismail Ahmad and Mohd Hafiz Hanafiah


5.
ANALYZING THE EFFECTS OF SYSTEM QUALITY ON THE NET BENEFITS OF THE VILLAGE FINANCIAL SYSTEM (SISKEUDES): INFORMATION QUALITY AND USER SATISFACTION AS MEDIATING VARIABLES
Amir Mahmud, Dedy Prayogo, Nurdian Susilowati, Bestari Dwi Handayani and Mardi Mardi


6.
FACTORS AFFECTING THE PERCEIVED READINESS ON THE ADOPTION OF INTERNAL AUDIT IN PUBLIC UNIVERSITIES: EVIDENCE FROM VIETNAM
Giang Nguyen Thuc Huong, Hanh Minh Thai, Dung Nguyen Thi Phuong and Dung Nguyen Tien


7.
BUMIPUTERA CORPORATE EQUITY OWNERSHIP AND VALUE RELEVANCE WITHIN THE INTEGRATED REPORTING FRAMEWORK
Nahariah Jaffar, Norazlan Alias, Noor Adwa Sulaiman and Zarehan Selamat


8.
DETERMINANT OF AUDITORS' JUDGMENT ON THE DETECTION OF FRAUDULENT FINANCIAL STATEMENTS
Lanny and Wiwik Utami


9.
THE INFLUENCE OF PROFESSIONAL SKEPTICISM ON FRAUD DETECTION: THE CASE OF MALAYSIAN NON – BIG 4 AUDITORS
Sharifah Nazatul Faiza Syed Mustapha Nazri, Izzul Hazmi Zahba, Salwa Zolkaflil and Noriza Zainuddin


10.
ENVIRONMENTAL MANAGEMENT ACCOUNTING SYSTEM ADOPTION AND SUSTAINABILITY PERFORMANCE: TRIPLE BOTTOM LINE APPROACH
Nirman Noor Afiqi Mat Yusoh, Tuan Zainun Tuan Mat and Azizah Abdullah


11.
AN ANALYSIS OF ANTI-CORRUPTION CORPORATE DISCLOSURE ACCORDING TO GRI STANDARDS IN PERUVIAN COMPANIES
Julio Hernández-Pajares


12.
MEASURING THE IMPACT OF ABSORPTIVE CAPACITY AND INTERNAL AUDITING ON FIRM PERFORMANCE
Yaser Ibrahem Almodallah, Suhaily Shahimi and Anna Azriati Che Azmi


13.
STRATEGIC MANAGEMENT ACCOUNTING INFORMATION USAGE AND THE CHOICE OF COMPETITIVE STRATEGY: MODERATING ROLE OF CORPORATE LIFE CYCLE
Pu Zhao, Raman Noordin and Stephen Laison Sondoh Jr


14.
SECURITY, RISK AND TRUST IN E-WALLET PAYMENT SYSTEMS: EMPIRICAL EVIDENCE FROM INDONESIA
Machmudin Eka Prasetya and Shuhaida Mohamed Shuhidan


15.
THE EFFECT OF ECO-EFFICIENCY AND GOOD CORPORATE GOVERNANCE ON FIRM VALUE: PROFITABILITY AS A MEDIATOR
Enni Savitri and Nik Herda Nik Abdullah